Contact Centre Benchmarking
Improve your competitive edge through Benchmarking!
Understanding how your customer service operation is really performing compared to your competitors means you can focus your budget and resources where they will have the greatest impact on your customers and bottom line. The only real way to gain this insight is through external benchmarking.
Bright Index is Europe's largest bespoke benchmarking survey. We have carried out over 1,000 performance reviews and know what best practice looks like and where your competitors are at!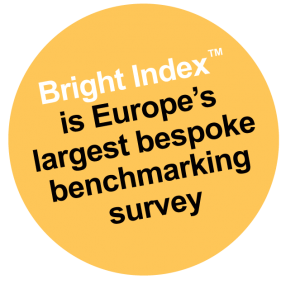 "On average we identify savings of £1M per site benchmarked, alongside showing them how to improve customer satisfaction by 10-30 percentage points." Managing Director Bright UK Mats Rennstam
Key features:
Over 60 relevant metrics reviewed and benchmarked
Results presented against peer and other sectors
Gap analysis identifies areas of focus
Actionable recommendations to achieve best practice
Benchmarking takes the guesswork out of your operations, you will know and be able to justify whether changes should be made or not. Your business case to senior managers becomes clear-cut and obvious.
There are a number of ways business can benchmark their performance, from assessing yourself against industry reports to using management consultants to conduct expensive evaluation based on limited data. Others use mystery shopping to assess advisor behaviour but this does not cover cost efficiency, utilisation levels, productivity etc. It is also normally based on a too small a sample.
Why Bright Index?
The Bright Index is recognised as the most reliable benchmarking available in the contact centre and customer service industry by being robust, relevant, comparable and actionable. As a result of doing the Bright Index, you'll be able to:
Focus your time improving the right things
Direct your budget to deliver the greatest return
Identify where your people can have a greater impact
Understand how to close the gap to best practice
Better align your teams to your goals
Learn what to measure going forward to improve performance
Identify savings of up to £1m
Improve your customer service by up to 30%
With customer demands and buying behaviour changing fast, now is the time to ensure you are closely monitoring your performance to enable growth and not failure.
To find out how the Bright Index can help your business, call us today on +44(0)208 296 1944 or email info@brightindex.co.uk.